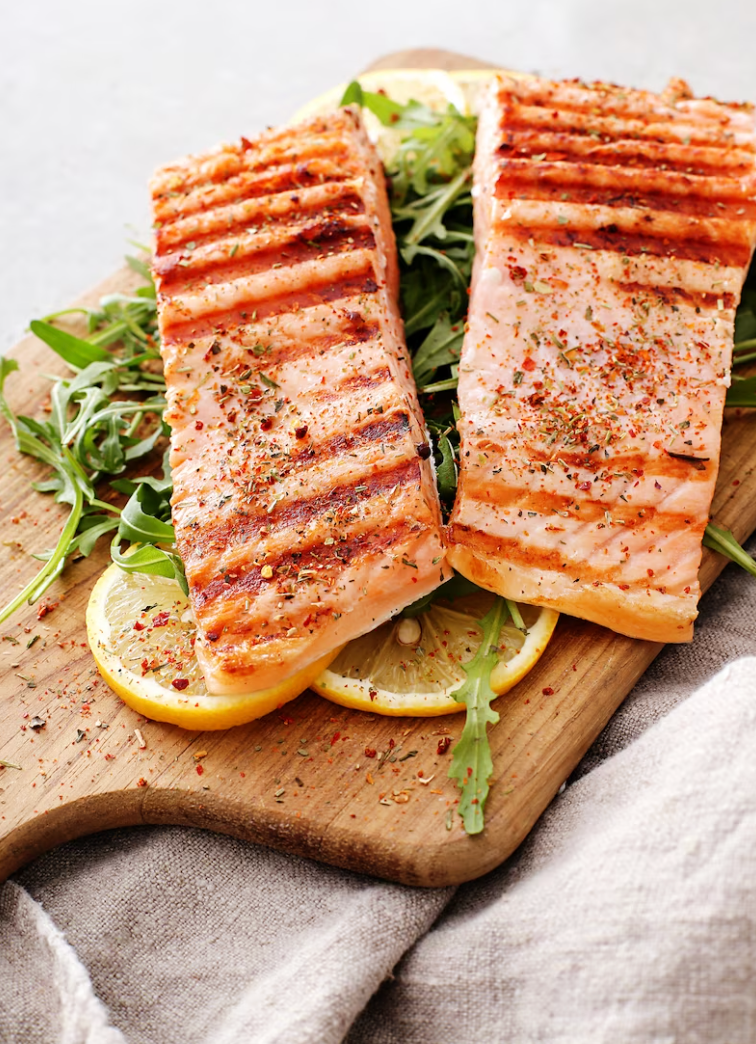 Try This Protein Salad Recipe For Healthy Hair
A Healthy Salad Packed With Protein For Hair
This protein salad for hair growth recipe is a simple yet delicious way to give your body the essential protein, vitamins, and minerals it needs for hair growth. Packed with several superfoods such as salmon and olive oil as both the cooking oil and an ingredient in the dressing, this energizing entree will help grow healthy hair and is heart-healthy while being low in calories. The recipe also features other standout ingredients such as red onion and pepitas or pumpkin seeds, which are fantastic sources of antioxidants and magnesium important for protecting existing hair from external agressors. Continue reading this article for a brief overview of the importance of protein for hair and some ingredient highlights.  
Ingredients
For the salmon:
2 salmon fillets (wild-caught or farm-raised)
2 teaspoons olive oil
kosher salt
pepper
smoked paprika
garlic powder
For the salad:
1 container of mixed greens
½ cup cherry tomatoes
½ cup red onion
2 Persian cucumbers
¼ cup of pepitas or deshelled roasted pumpkin seeds
For the dressing:
⅓ honey
½ cup lemon juice
1 tsp Dijon mustard
½ tsp salt
⅔ cup olive oil
1 tablespoon poppy seeds
Protein Salad for Healthy Hair - Directions
Step 1 - Prep Salad Dressing
Add dressing ingredients into mason jar and shake until well incorporated. Set aside in fridge while prepping the salmon and salad ingredients.
Step 2 - Season And Grill The Salmon
Rub salt, pepper, paprika, and garlic powder evenly over salmon. When done seasoning, heat pan on medium and add in olive oil. Once pan is heated, add in salmon skin side down and cook for 2-3 minutes so the skin gets crispy. Flip salmon and cook salmon for another 2-3 minutes. Remove salmon and allow to cool slightly
Step 3 - Prep Salad Ingredients
Chop lettuces, tomatoes, red onion, and cucumbers to desired size, combine in a medium sized bowl and combine with pepitas.
Assembly
To assemble this protein salad for healthy hair, you have a few options! You could simply top the prepped veggies with your grilled salmon and pour over dressing all in one bowl or even combine veggies with the dressing, plate, then add salmon over top!
The Importance of Protein For Hair
You may have heard that protein is an important part of a healthy diet because our bodies use the amino acids protein provides to build muscle and strong bones. Protein is important for our health, but many people may be unfamiliar with the importance of protein for hair. Protein is a crucial nutrient our hair needs to help keep it strong and healthy. In fact, our hair is made up mainly of protein, so it is especially important to make sure that we consume enough protein in our diet to give our hair what it needs to look, feel and grow its best. Not consuming enough protein in our diet could lead to hair and scalp-related issues such as restricted growth and even excess hair fall.
Though the ingredients and protein source within this recipe has been carefully selected and put together to aid with hair growth, they are also essential nutrients for other areas of our bodies, such as our cardiovascular system, immune system, and can be helpful with digestive support as leafy greens and seeds are high in fiber. 
Ingredient Highlights - Protein Salad Recipe For Hair Growth
Salmon is a powerful hair superfood for a variety of reasons. Not only is salmon high in protein but also a great source of vitamin B12, potassium, iron and vitamin D. Salmon is also high in omega-3 fatty acids which is a fantastic nutrient for keeping your hair shiny, strong and healthy. Each of the above health benefits of salmon in this protein salad recipe will help your body receive the necessary vitamins and nutrients to grow healthy hair.
2. Olive Oil is known to be high in antioxidants as well as for having anti-inflammatory properties. Olive oil is a fantastic cooking oil and dressing ingredient because it will deliver your body essential antioxidants to help protect your hair from free-radical damage and help with soothing inflammation that may prevent your body from growing healthy hair and protecting current hair strands. Like salmon, olive oil is also rich in fatty acids making it a great addition to promoting and supporting hair growth as part of this protein salad recipe.
3. Mixed Greens are great because they allow you to try various lettuces, different textures, and offer many nutrients. Leafy vegetables are essential for hair growth, and a key ingredient in this protein salad recipe, because they are high in vitamins such as vitamin A, C, and beta carotene, each of which are essential nutrients for helping our cells build healthy hair strands.
4. Pepitas or pumpkin seeds are the little green seeds you see in this image. They are found on the inside of the white shells and are often roasted and dusted with sea salt. You may have also seen these seeds being enjoyed at baseball games! Though pepitas are a tasty snack they are also an important in this protein salad recipe because they are healthy for our hair. Like salmon, pepitas are rich in protein and healthy fats making them nutrient dense for our hair. In addition to being high in protein and healthy fats pepitas also contain magnesium and inflammation calming zinc. Read more about the benefits of zinc for hair on our blog!
5. Did you know that red onions are great for our hair? It is true! Red onions are high in a nutrient called sulfur which may prevent hair loss by helping the body produce collagen, promoting the building of new hair follicles. Red onions are a powerful ingredient in this protein salad recipe because of their antioxidant and vitamin-rich properties!
Thinking About Trying This Protein Salad Recipe?
If you are looking for a simple yet protein and nutrient-rich meal, then definitely give this protein salad recipe a try! Our recipes are carefully put together to support healthy hair through nutrition and quality ingredients. If you are also interested in natural hair products that support healthy hair, check out RKT Hair Care's full product line.