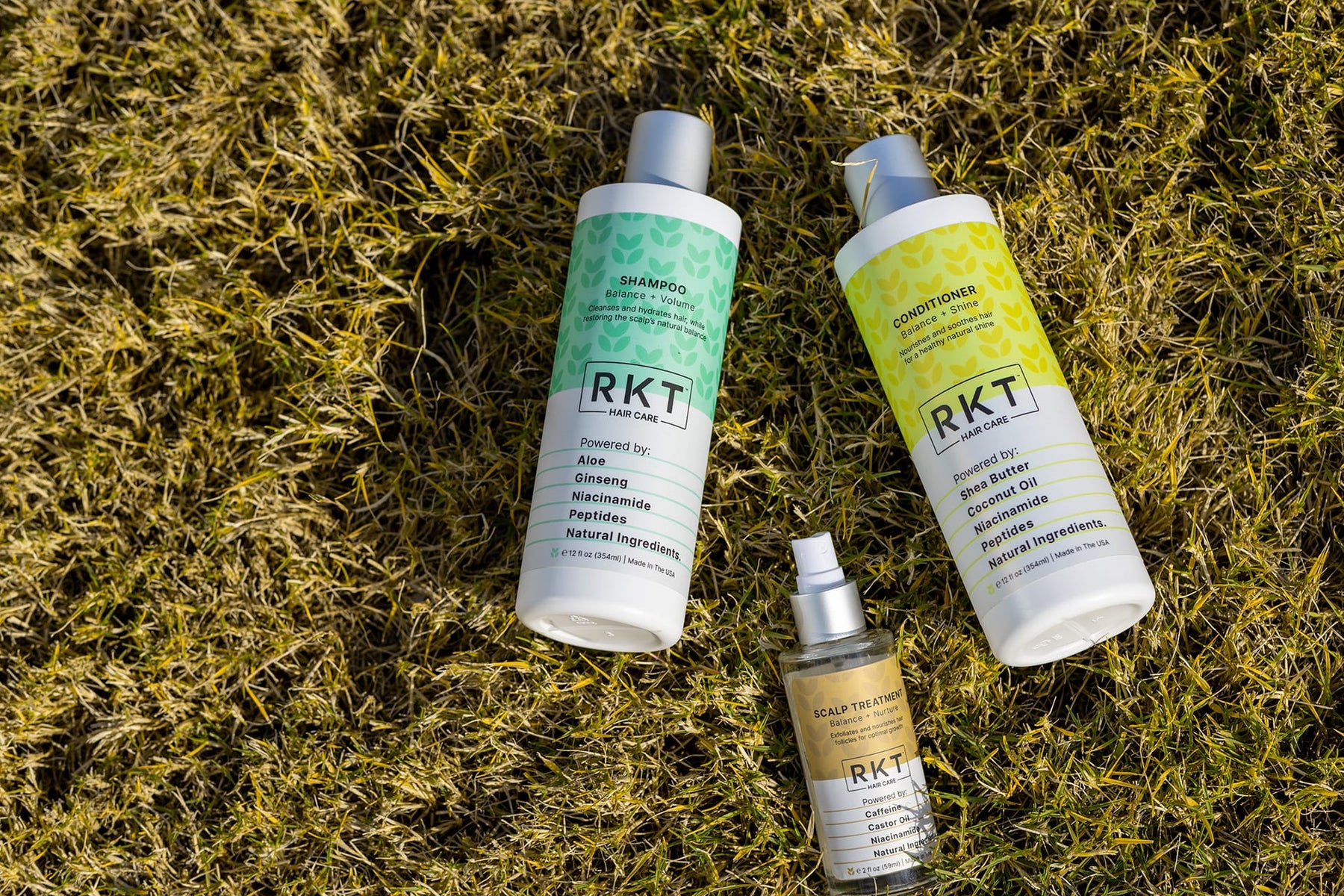 Our Story
As my hair grew, so did our family on TikTok @brandonrocket, and I heard from all of YOU that so many of us share the same hair problems.
We want long and luscious hair, but find it hard to grow and maintain healthy and voluminous hair.
Most of the products I tried contained harsh ingredients and would leave my hair feeling either super dry or greasy with dandruff, which would cause me to chop it off and start over again.
To grow and maintain healthy long hair, what I needed was balance.
The main issue was that many hair care brands offer bundles with shampoo and conditioner that have the same target, whereas in reality, they should have distinct functions.
We started RKT Hair Care to help support your hair goals and solve these problems.
Our unique product line helps support a balanced scalp, with a focus on volume, shine, and nurture for your hair. We created our custom formulas with our team of hair care experts who have been in the industry for over 20 years, and we hand-pick our ingredients for optimal results. We don't only target the hair, we target the scalp, because a happy scalp is the foundation for healthy hair.
Whether you have long hair but want it to be more healthy, volumized, and luminous, or have short or thinning hair and want to grow it out and maintain balance, RKT Hair Care is here for you.
Our mission at RKT Hair Care is to inspire people to look and feel their best through naturally powered hair products. All of our hair care products are proudly made in the USA. We source our ingredients and produce our products at our facility in Southern California, with a focus on natural ingredients and functional results.
Community Driven
Brandon Rocket is the Founder and CEO of RKT Hair Care, a company dedicated to providing naturally powered hair products that help people look and feel their best. With a focus on community, Brandon has grown the family to over 500,000 people and continues to inspire people every day.
"Our mission is to provide industry leading hair care products and foster a community for education and inspiration for your hair journey.
Own your hairstyle - you can RKT"
Focus on Natural
Aloe, Shea Butter, Coconut Oil, Peppermint Oil, and Ginseng, are only some of the natural ingredients used to power our products.
Our Logo
RKT, pronounced [Rock-it], has a triple meaning, and represents the mission of our brand - to inspire continual growth by empowering people to look and feel their best through top quality hair care products.
Rock-it - Rock your style
Rocket - Upward growth
ROCK IT - Crush your goals
Our Guarentee
All of our products come with our 30 day guarentee. We stand by the quality of our products.
If you don't love them too, contact us within 30 days for a refund.